Sarah Louderman, Programs Assistant
Joined Team ENF: November 2011
---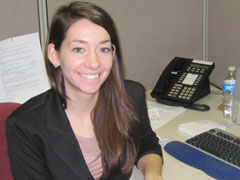 A 2011 graduate of University of Missouri, Sarah Louderman, who studied Psychology and Human Development and Family Studies, returned to her home state of Illinois, joining the ENF staff in November 2011 as the Donor Services Assistant.

"I am drawn to nonprofits because I like knowing I am part of a team that helps people," says Sarah on what brought her to the ENF. "From veterans to the college bound, I appreciate everything Elks do across the country."

When not at the ENF, Sarah enjoys reading, yoga, spending time with friends, and watching Late Night with Jimmy Fallon.

Sarah became the Programs Assistant in October 2013 and was promoted to Programs Associate in June 2015.