Elks National Foundation 2021 Convention Schedule
Meet the ENF in Tampa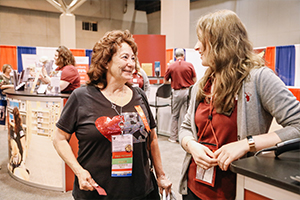 The Elks National Convention team is working closely with local authorities to monitor the developing weather situation in Tampa. Please continue to check the Convention website for information.
The Elks National Convention will look a bit different this year, but we can't wait to see old friends—and make new ones—in Tampa.
Reservations are required to attend Convention events—including the Opening Ceremonies, general sessions, seminars and workshops. Pre-register to attend the Convention and access Event Reservations online at elks.org/convention.
ENF at Opening Ceremonies
Don't miss the Foundation's presentation during Sunday's Opening Ceremonies!

Sunday, July 4 | 4 p.m.
Immediately following Opening Ceremonies, the ENF is pleased to present the Party Crashers, America's best party band. This versatile group covers classic rock to pop and everything in between. You'll definitely want to crash this party!
Seminars and Learning Opportunities
Be sure to make a reservation and attend these ENF seminars—one registered attendee from each workshop will be selected to receive a $100 soft credit to the ENF-funded program of their choice.
Bouncing Back with the Elks Hoop Shoot!
2022 marks the Hoop Shoot's 50th anniversary as a national program, and we intend to deliver a gold-medal National Finals for a golden anniversary. Learn about the program's history and what's in store for the upcoming season.
Monday, July 5 | 12:30 to 1:30 p.m.
Your Foundation
In 1928, during the annual Grand Lodge Convention in Miami, then-National President John F. Malley's call to service inspired delegates to vote to establish the Elks National Foundation with an initial $100,000 grant. More than 90 years later, your Foundation continues to unite Elks in service to their communities with nearly $40 million in grants and distributions. Come hear how.
Tuesday, July 6 | 12:30 to 1:30 p.m.
#ElksAlwaysCare
Learn how Lodge grants help Elks build stronger communities and stronger Lodges. We'll walk through available Community Investments Program grants and resources and feature innovative projects meeting today's needs.
Tuesday, July 6 | 2:30 to 3:30 p.m.
Q&A with Elks HQ Staff
ENF staff will be available to answer your questions in the Elks Central area of the Convention Center. See onsite map and hours for more information
For more information, email
enf@elks.org
or call 773/755-4728.
---
Back to top