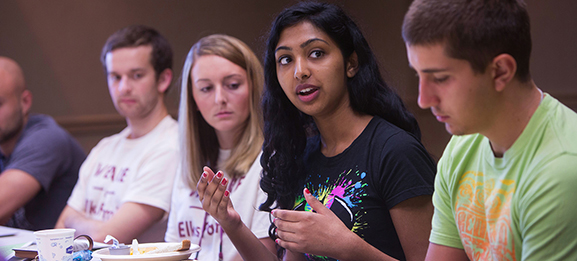 Uploading Transcript & Test Scores
Essays
Elk Sponsor Information
Completed Application & Deadline
Applications must be submitted online by 11:59 a.m. Central Time on February 2, 2018.
Q: The college I plan to attend doesn't require that I take the ACT or SAT. Are these scores needed for this application?
A: Yes, ACT and/or SAT scores are required. You need to take either the ACT or SAT before December 31, 2017, in order to qualify for the Legacy Awards.
Q: Can I submit a copy of my test scores from the SAT or ACT website?
A: Yes, you may submit your test scores from the SAT or ACT website.
Q: My school will not issue a transcript directly to me. What should I upload?
A: If your school has a policy about issuing official transcripts to students, work with your guidance counselor to secure an unofficial transcript and upload the unofficial transcript to your application.
Q: What file types do you accept for uploading transcripts/test scores?
A: Your transcript and test score documents must be in PDF, JPEG, or TIFF format in order to be uploaded.
Q: What if my guidance counselor gave me a paper copy of my transcript?
A: Please scan the paper document and upload the electronic file to your online application. Transcripts cannot be mailed to our office, they must be uploaded electronically to your online application. Note, transcripts mailed to our office will be destroyed.
Is there a word limit on the essays?
A: Yes, each essay has a word limit. There is a word counter at the bottom of each essay to help ensure you do not exceed the word limit.
Q: What information do I need to provide about my Elk sponsor?
A: You will need to provide his or her name, Lodge number, membership number, and a phone number or email address. Your Elk sponsor's membership number can be found on their membership card.
Q: When is the 2018 Legacy Awards application due?
A: Your application
must be submitted by 11:59 a.m. Central Time on Friday, February 2, 2018
. The Elks National Foundation is not responsible for any technical errors that may arise as you complete and submit your application. We especially encourage you to upload required documents early, even if you aren't ready to submit your application. In addition, it is in your best interest to submit your application early to avoid any last minute web traffic problems.
If your application is received after 11:59 a.m. Central Time on February 2, 2018, it will be ineligible, regardless of the reason for late submission.
---
Back to top