Who are the Elks?
Elks are community.
No matter where you go in the country, an Elks Lodge is right around the corner. With more than 850,000 members and 2,000 Lodges nationwide, Elks are providing charitable services that help build stronger communities.
Click here to join us in service to your community!
Wounded Warrior Project
Elks/Wounded Warrior Project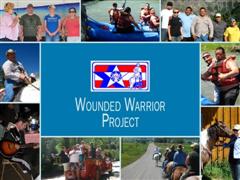 At the 2009 Elks Convention, through a generous grant from the Elks National Foundation, the Elks National Veterans Service Commission presented the Wounded Warrior Project with $50,000 to launch the Elks/Wounded Warrior Project.
The Wounded Warrior Project is a non-profit organization created by and for wounded veterans. It's goal is to provide assistance to veterans who were wounded, both physically and psychologically, in the conflicts in Iraq and Afghanistan. The Wounded Warrior Project provides assistance and counseling to aid in a wounded soldier's return to civilian life.
Neil Duncan, a 25-year-old veteran who lost both legs to a roadside bomb in Afghanistan in 2005, accepted the check on behalf of the Wounded Warrior Project. Neil was welcomed with a standing ovation by those attending the session. Click the play button on the picture below to see Neil's rivoting address to the 2009 Convention delegates.
Through a competitive process, four Lodges were selected to receive grant funds to host outdoor retreats for veterans.
The following Elks Lodges will partner with the WWP to host a memorable weekend for everyone involved.
Crisfield, Maryland, Lodge No. 1044 - May 2010 — charter fishing, crab festival

Telluride, Colo., Lodge No. 692 - August 12-15, 2010 — horseback riding, off-road tours, whitewater rafting, camping

Beaumont, Texas, Lodge No. 311 - August 29 - Sept. 3, 2010 — duck hunting, deep sea fishing, speedboat rides, alligator hunt

Clear Lake, Texas, Lodge No. 2322 - October 1-4, 2010 — cat fishing, hog hunting, 4-wheeling, trap and skeet shooting
"My main goal for this weekend was to show them the time of their lives," says Telluride Lodge Exalted Ruler Cindy Bellai. "But they turned the tables and gave me the time of my life! Without question, it's the best thing I have done in my life."
Click here to see a slideshow of the Crisfield and Telluride events.
From the Atlantic coast to the Rocky Mountains, Elks Lodges are upholding the pledge to never forget our veterans. This November, make sure to get involved at a local Lodge during Veterans Remembrance Month. You never know how a simple act of kindness can change a life. To find a Lodge near you, visit www.elks.org/lodges.
Background
According to the Department of Defense, more than 34,000 service men and women have been wounded during Operation Iraqi Freedom (OIF) and Operation Enduring Freedom (OEF). When these warriors return to their communities, their adjustment to civilian life is complicated by injuries, both physical and psychological. For many, their problems can be overwhelming and lead to desperation, loneliness, and depression.
The Elks/Wounded Warrior Project helps these heroes to realize that they can still perform their favorite recreational activities. Sharing their experience with comrades in arms and Elks will lessen their sense of isolation. Giving them a sense of accomplishment may help them to face and overcome other difficulties relating to home, career, and their community.
The outdoor events will not only help heroes who made such a sacrifice, they will be a tremendous opportunity for Elks to help these Veterans who have sacrificed so much and raise public awareness of the issues these service men and women face. Elks and their volunteers will benefit from an unforgettable experience of which they can be justifiably proud.
This is an unique opportunity for Elks in four communities to help our young heroes, and at the same time enjoy themselves in the great outdoors. It will be a challenge to organize and carry out the events, but the reward will be great, for both the Veterans and the volunteers. What a great way to show that 'So long as there are Veterans, the Benevolent and Protective Order of Elks will never forget them.'
---
Back to top