Who are the Elks?
Elks are community.
No matter where you go in the country, an Elks Lodge is right around the corner. With more than 850,000 members and 2,000 Lodges nationwide, Elks are providing charitable services that help build stronger communities.
Click here to join us in service to your community!
Youth Recognition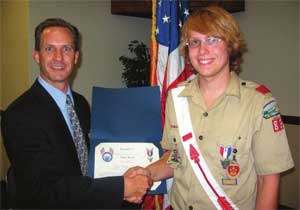 The "Teenager" and/or "Student" Program is designed to recognize outstanding young men and women for achievements in school and community life-fine arts, hobbies, athletics, church, school, club and community service, industry and farming. Their accomplishments should be recognized and praised.
Our Subordinate Lodges should seek out Teenagers and/or Students in both Junior High Schools and Senior High Schools and select an outstanding boy and girl at both levels each month, and then yearly, and with publicity, give them awards for their accomplishments. Handsome certificates, to be signed by the Subordinate Lodge Exalted Ruler and Youth Activities Chairman, will be furnished to all Lodges participating in this Program. The certificates can be presented at a luncheon or dinner to which the parents, Lodge Officers, the Youth Activities Committee and media representatives are invited.
Your whole-hearted efforts toward making this Program a success will reap untold dividends for your Lodge, community, Order of Elks and our nation.
States with 75% or more Lodge participation in combined "Teenager" and/or "Student" Programs will be awarded at the next Grand Lodge Convention.
Nominating Procedure
The method of selecting the "Teenager and/or Student Of The Month and Year" and "Junior Teen and/or Student Of The Month and Year" is the responsibility of the Subordinate Lodge Youth Activities Committee. Working in conjunction with school authorities, a student nominating committee may be named. This committee would be responsible for screening "Teenager and/or Student Of The Month" nominees in a school. If more than one school exists in the area served by a Subordinate Lodge, an area committee could be appointed to further screen the nominees. On the other hand, it might be desirable to name a "Teenager and/or Student Of The Month" from each school within the jurisdiction of each Lodge, thus eliminating an area committee.
The important point to remember is that the underlying purpose of the program is to seek out Teenagers or Students whose accomplishments deserve public recognition and praise. To do this, the nominating process may be modified to accommodate conditions as they exist in a given community. If the "Teenager Program" is being used in your area, introduce the "Student Program."
Recognizing Excellence In Scouting
Since those reaching the highest levels of personal achievement in the Boy Scout and Girl Scout Programs must complete a more formalized set of requirements as specified by their respective parent organizations, and are chosen without the need for our Order's assistance in the selection procedure, the role of each Elks Lodge is to contact its local Scout councils and obtain the names of honorees in the community. The Lodge should then plan an awards dinner or ceremony at which both the young scout citizens and their parents are suitably acknowledged with the gratitude and respect of your Lodge's Elk family for their valuable contributions to America's future. Impressive and appropriate BPOE Certificates (Eagle Scout Award, Girl Scout Silver Award, Girl Scout Gold Award) are available free of charge upon request from either your State Youth Activities Chairman, the Grand Lodge Youth Activities Committeeman designated for the Scout Program, or the office of the Grand Secretary. If our young people and their families are doing their part for America, then it is Elkdom's responsibility to applaud and support their efforts in our Nation and our communities.
Contact
Ron Lamot, rlamot@aol.com
---
Back to top