Lodge Facilities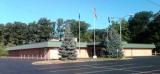 Plymouth Lodge #1780
Lodge Meeting Nights -Business Meeting every 2nd Wednesday, Initiation Meeting every 4th Wednesday.
House Committee meeting 6:30pm followed by the Trustee meeting at 7:30pm every 3rd Wednesday.
Initiation Dinner 7pm followed by Initiation Meeting at 8pm 4th Wednesday of the month.
PER Meeting every 2nd Thursday 8pm
Active Senior Elks meet every 2nd Tuesday at noon.
Join us in visiting our Vet's at the Veteran's Hospital the 1st Thursday of each month. Horse racing games and more make for an enjoyable evening for the Vet's. Van leaves the Lodge at 6:00pm and returns at 8:30 -9:00pm
Bingo is held every Monday at 6:30pm. Doors open at 5:30. Paper specials, hard cards
Lunch is served every Tuesday,Wednesday, and Thursday From 11am to 2pm.
Burgers at the Bar every Thursday from 5:30 to 7:30 pm. Full Menu
Fish and Chicken Buffet is held every Friday from 6pm to 8pm. With a band playing every week for your after dinner entertainment. Come join us for some great food and music.
P.E.R.'s sponsor a Steak/Walleye diner the 1st Wednesday of the month. New York Strip and all the trimmings only $8.00. Pan Fried Walleye only $10.00. Must call 3-4 days ahead for walleye, 734-453-1780.
ENF Breakfast every 1st Saturday, 8:30 am - 11:30 am.
---
Back to top