Lodge #776 Home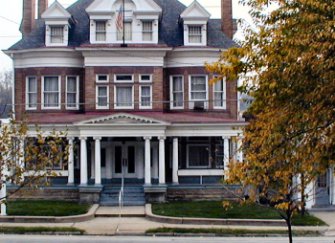 Founded 1902 Washington Elks Lodge #776 138 E. Maiden St., Washington, Pa. 15301
Welcome all Elk visitors to our lodge!
Club Manager: Susan Jungo
susanj776@comcast.net
Lounge Open Daily 10 am to close. We have a full-service bar and dining room.
Dining room open:
Lunch 11:30 - 1:30 Monday thru Friday
Dinner 5-9, Thursday thru Saturday Thurs.
You will find Washington, PA south of Pittsburgh, PA at the junction of I70 & I79.
The lodge building stands across the street from the campus of historic Washington & Jefferson College.
WEDDINGS, BANQUETS, LUNCHEONS. Facilities are available for private affairs.
Email or phone our Manager:
Susan Jungo
susanj776@comcast.net or 724.222.0776 ext 11.
MEETINGS: 2nd & 4th Tue. 8:00 p.m. July – 1 meeting ~ 2nd Tue. Aug – 1 meeting ~ 4th Tue. Dec - 1 meeting ~ 1st Tue.
The elected officers for the coming year 2008-2009:
Exalted Ruler - Lawrence Donovan Leading Knight - Ed Forsberg Loyal Knight - William Eloshway Lecturing Knight - Thomas Rendine Tiler - Darwin Cooke Secretary - Betty Matthews Treasure - James Smith Trustees - James B. Gregg 5 year, Pete Mowl 4 year, Clayton Hapchuk 3 year, William Frieberger 2 year, Richard Grilus 1 year.
Appointed Officers:
Esquire - Paul Parr Chaplain - Don Lockwood Inner Guard - Sidney Blasiole
3.4.09
---
Back to top