Lodge #2344 Home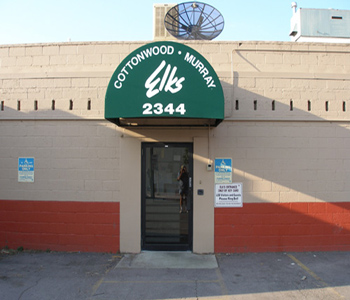 WE ARE SORRY TO INFORM YOU THAT COTTONWOOD MURRAY LODGE #2344 HAS SURRENDERED IT'S CHARTER AND IS NO LONGER OPEN.
"Click" on Photo Gallery to view Camp Wapiti, Utah Hemophilia Association, summer 2006!
Making A Friend Takes A Moment Being a Friend Takes Lifetime. Author Unknown
The Lounge opens at 4:30 PM Friday's 4-9 PM Saturday and Noon to 6 on Sunday. Closed on Monday-Thurdsay. Dinner:Friday, 6:30pm-8:30pm. ENF/LODGE Brunch: 1st Sunday each month
We meet on the 2nd & 4th Tuesdays, at 7:00 Pm With the exception of: 1st Tuesday in July & last Tuesday in August.
Lodge address: 4894 South State St., Murray, UT 84107 (801)266-2344
Elk,s Creed
Believe In The Goodness of Thyself As Well As In Others. Protect Childhood With Tenderness, Old Age With Respect. Cherish With Reverence The Memory Of Those Who Have passed. Observe Faithfully The Golden Rule. Enjoy The Good Things of Earth. Keep Within Thee The Glorious Sunshine of Youth And Remain Always of Good Cheer.
"The Faults Of Our Members We Write Upon The Sand, Their Virtues On The Tablets Of Love and Memory."
Please take a second to sign our Guest Book so we know who has visited our webpage. Thank you!
---
Back to top