Allegheny, PA Lodge News
PITTSBURGH BANJO CLUB IS HOT! HOT! HOT! ON WEDNESDAYS AT THE ELKS LODGE.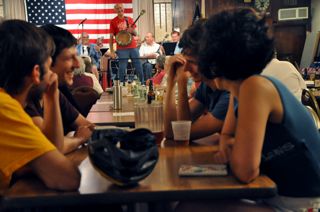 PITTSBURGH BANJO CLUB IS HOT! HOT! HOT! ON WEDNESDAYS AT THE ELKS.
The Pittsburgh Banjo Club is attracting a big audience on Wednesday nights for music and fun!
Toe-tapping, hand clapping, sing-along music is the happy style of the PBC, one of the largest and best known banjo clubs in the country. Check out their web site:
Pittsburgh Banjo Club
Check out this tv special about the banjo club at the Elks:
FNTV
There is no admission charge for a night of good old-fashioned music that reflects the spirit of Pittsburgh and the banjo. They even have sing-along sheets available in case you can't remember the words to all those great old tunes. Those great Tin Pan Alley songs that you don't hear anymore will bring back many happy memories for you. Bring a friend -- it's FREE and open to the public.
"MUST BE 21 OR OLDER, OR ACCOMPANIED BY PARENT OR LEGAL GUARDIAN"

NO SMOKING INSIDE THE BUILDING.

PARKING IS NOT AUTHORIZED IN THE GIANT EAGLE PARKING LOT. SORRY.
Doors open at 7 p.m. and the music starts at 8 p.m. and goes until 11 p.m.
Hot food and light snacks are available along with the Elks' regular low priced drinks. THERE IS EVEN A 50/50 RAFFLE!
Come on down and join the fun. If you plan on bringing friends, be sure to make reservations as it's been almost a full house every Wednesday.
For reservations: 412-321-1834.
---
Back to top