2009-2010 Lodge 581 Essay Contest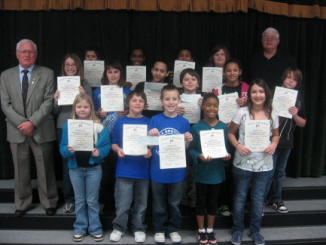 Twenty-one students participated in the Grand Lodge Americanism Program, 2009-2010 Lodge 581 Essay Contest. The topic was "The American Dream: What is it?" It was limited to 250 words. Essays were received from Madison Middle School, Mayfield Elementary, Kirksville Elementary, and Clark-Moores Middle.

Local awards were presented to the first, second and third place winners in each of 2 divisions. First received $30.00, second $25.00, and third $20.00. Certificates and checks for the local awards were presented February 2, 2010. Pictured above are the participants from Mayfied Elementary, 5th grade. Also pictured are Gordon Philpot, Americanism Chairman and Garnett Isbell, Exalted Ruler.
---
Back to top