Lodge #1877 Guest Book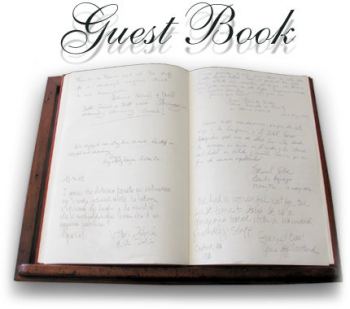 ---
Hello from Grants Pass Oregon! My husband was an Elk in Yreka california. They had a beautiful antique back bar n a nice venue for bingo n other get togethers. Im going to call in the morning to inquire about renting your facility for my family reunion in August. I look forward to discussing this. Anita
Posted 02/03/2014 at 10:21 PM
---
from Victorville, CA, Lodge #1877
I was just checking for lodge hours. Thank you, John
Posted 05/16/2013 at 1:14 PM
---
from Victorville, CA, Lodge #1877
ran across your web page my father was a elk for years have alot of Memoires times at the lodge and the elks Picnics years ago. glad to see its still going strong.
Posted 11/15/2012 at 4:30 PM
---
from Victorville, CA, Lodge #1877
Been a member about 5 yrs, love it, great place, great people.
Posted 07/08/2012 at 7:50 PM
---
from Prescott, AZ, Lodge #330
Greetings from Prescott, AZ Lodge #330 "Mother Lodge of Arizona". In December of 1895 a group of enterprising businessmen in Prescott, sturdy products of the early west, charted the original petition for a dispensation and later established the Prescott Lodge. Prescott and Prescott Valley, Arizona, located about 90 miles northwest of Phoenix. With our mile high elevation (5230 ft), the cities enjoy a four-season climate with both mild winters and summers. Check out our elks.org page and sign our Guest Book.
Posted 05/02/2012 at 8:08 PM
---
from Poway, CA, Lodge #2543
Stopping by with R.V for a visit next week with my wife. looking forward to seeing your lodge
Posted 05/02/2012 at 1:09 PM
---
from Aspen, CO, Lodge #224
I am helping to update the list of our lodges which sponsor a boy scout troop. Please answer even if your lodge does not sponsor one. Thanks for your help in this matter. Fraternally yours Dick Miller Leading Knight Aspen Elks Lodge 224
Posted 01/22/2012 at 1:55 PM
---
from Victorville, CA, Lodge #1877
Wanted to checkout the website.
Posted 07/30/2011 at 6:13 PM
---
hello, my name is nate i trying to get some information on Henry j,lemmer.. I was doing a construction job over the weekend an i found some paper from the 1900 original sign by him. please contact me at 201 667 7752 or just send me an email.. thank you for your time.
Posted 05/16/2011 at 9:53 AM
---
from Mount Shasta, CA, Lodge #2333
CONGRATULATIONS!! On Number ONE!! It's on to Fresno and another #1 for the State!!
Posted 05/02/2011 at 12:24 AM
---
from Victorville, CA, Lodge #1877
Hello, my name is Craig Williams and I am a Trustee at the Victorville Lodge. I am also the Vice Chair for the THUNDERING ELKS. Do you have a Motorcycle or a Trike and looking for some riding partners. Come to the Victorville Lodge on TACO TUESDAYS and meet some Thundering Elk members. We ride all over the High Desert and enjoy Elk Friendship. The Victorville Lodge has great Officers and we are a fantastic and friendly group of Elks. The Victorville Lodge would love to have you stop by. So get your Engine Started and Lets go for a Ride, "RIDE TO LIVE, LIVE TO RIDE ELKDOM"
Posted 04/11/2011 at 1:58 PM
---
from Victorville, CA, Lodge #1877
This is wonderful to be able to post our special events, so that our fellow Elks may join us.
Posted 11/22/2010 at 5:59 PM
---
Hi, I'm Glad that we have a web site now all Elks can keep in touch.
Posted 11/20/2010 at 7:56 AM
---
from Rockland, ME, Lodge #1008
Congratulations to the new Suite of Officers for 2010-2011 and all the best in the Lodge year ahead!
Posted 03/23/2010 at 9:20 AM
---
from Mount Shasta, CA, Lodge #2333
I really love your story about the teacher and her school desks in your NEWSLETTER. I'm going to share it with all my friends.
Posted 11/20/2009 at 10:26 PM
---
Wow good jog on the web-page
Posted 07/20/2009 at 11:59 PM
---
from Victorville, CA, Lodge #1877
Hi
Posted 07/16/2009 at 4:25 PM
---
from Warren-Sterling Heights, MI, Lodge #2292
Hi
Posted 07/16/2009 at 4:25 PM
---
from Cranford, NJ, Lodge #2006
Greetings from the east coast I could really use the help from my west coast brothers
My name is Ray Cola I started the Bikers Rally for Brain Injured Children several years ago here in New Jersey its the second Saturday in April every year. In 2010 I want to go National with it - My idea is simple - get a group from each state to do a RUN/RALLY on the second Sat in April and each state gives the proceeds they collect to a special needs children's charity of their choice I don't want any $ from you what ever you collect you donate it directly to a childrens charity in your area The cool thing about it is that Bikers across the country will be riding on the same day for the same cause !
Would your CLUB/GROUP/LODGE be interested in representing your state in the BIKERS RALLY FOR BRAIN INJURED CHILDREN ?
If so please contact me asap
Ray Cola National V.P. ELKS MC amfrjf@aol.com www.cranfordelksmc.com www.myspace.com/bikers1
Posted 07/15/2009 at 7:08 PM
---
from Mount Shasta, CA, Lodge #2333
Great web page. Look us up in beautiful Mt. Shasta whenever you travel.
Posted 07/14/2009 at 12:42 PM
---
from Dunedin/Clearwater, FL, Lodge #1525
greetings from dunedin, florida! SMILE
hoping to come visit, can't wait to meet ya'll.
fraternally, cathy sullens
Posted 06/07/2009 at 12:59 AM
---
from Rockland, ME, Lodge #1008
Wonderful work on this web site for my friends and family of Lodge #1877. Congrats to Ralph Wareing for his Elk of the Month honor and his work for the Lodge and this web site.
Fraternally, Bill
Posted 03/17/2009 at 3:42 PM
---
from Lancaster, CA, Lodge #1625
Congratulations to Exalted Ruler Vicki Zellner and to her entire Corps of Officers for the year 2008-2009. Wish you all a very successful year.
Posted 04/10/2008 at 1:05 PM
---
from Victorville, CA, Lodge #1877
Glad to see that we are on the web... See all of you on "Monday Night Football" for our fantastic taco night.....
Posted 09/10/2007 at 2:23 AM
---
seeking information about the unferdorfer clan initiated by jim unferdorfer
Posted 03/17/2007 at 1:29 PM
---
from Winthrop, MA, Lodge #1078
Greetings from Winthrop MA. Lodge #1078, If your ever in our area be sure and stop in. You can also click on over check out our web page and sign our guest book. Our Lodge is minutes from Boston, in 2007 we are celebrating 100 years of Elkdom.
Bob Gillis, Lodge Historian
Posted 10/14/2006 at 1:58 PM
---
from Smithtown, NY, Lodge #2036
Greetings from Smithtown NY Lodge #2036 If your ever in our area be sure and stop in. You can also click on over check out our web page and sign our guest book.
Andy Wolke #2036 Web Master.
Posted 07/23/2006 at 10:28 PM
---
from Fayetteville, NC, Lodge #1081
As Webmaster of our Lodge, I am visiting all VHP's for new and creative ideas. Please visit our site and sign our book. If I can help you in anyway with your site feel free to contact me.
Thank you!
Posted 04/15/2005 at 11:38 AM
---
from Victorville, CA, Lodge #1877
Hello my fellow brothers from the first lady elk of lodge 1877. I miss you guys. e-mail me if you can. Take care. Kimberly
Posted 03/02/2005 at 12:07 PM
---
John C. Holthaus ( Collins, Charles clifford) (Holt854@cox.net)
from El Cajon, CA, Lodge #1812
I was interested in finding information on my grandfather, Charles C. Collins who was a member of your lodge. Grandpa Collins was a Agent for the I.R.S. at the Victorville office and resided in Apple Valley with his wife Sally. I was trying to find out his BPOE number and when he left the lodge, and did he transfer to another lodge, perhaps in the San Diego area. If any one has any information on CCC wheather it is a story or answers to my questions, I sure would like to hear from you. Thank you.
Posted 08/14/2004 at 11:42 AM
---
There's over 2,000 lodges throughout Elkdom, but only a handful are physically located on the Mother Road – Old Route 66. We've published a list of them on our lodge news page. If you know of any others, please advise.
Fraternally, Sibling Joe ;-)
Posted 06/22/2004 at 11:04 PM
---
I was married to Anthony M. Unferdorfer 111
Posted 04/28/2004 at 2:21 PM
---
While searching the internet I found an article here showing Dick Unferdorfer. I am doing genealogical research and would like to be in contact with Mr. Unferdorfer. He may contact me at JUnferdorfer@neo.rr.com, or register at our family website: http://home.neo.rr.com/unferdorfer
thanks so much!
Posted 04/10/2004 at 5:47 PM
---
It's great to see other Elks Lodges using the web. Our Lodge 1446 is also on the Elks page, please drop by and sign our guest book. We also have our own web page listed as: www.duncanelksclub.org. We have a 18 hole golf course, pro shop, ballroom, dining room, swimming pool, card room, lounge, and 19th hole. If you or any of your members are ever in Duncan, Oklahoma, please stop by and play a round of golf and have dinner. We would love to have other Elks come and see us.
Sam Amerson Chairman – Board of Trustees
Duncan, Oklahoma
Posted 10/03/2003 at 4:45 PM
---
hello 1877 lost elk here was member in 1982 #2320 is debbie still there?
Posted 09/21/2003 at 3:00 PM
---
from Prescott, AZ, Lodge #330
Greetings Elks of Victorville, California Lodge #1877 from Prescott, Arizona Lodge #330
Thanks for the link to our web site.
Posted 01/07/2003 at 4:44 PM
---
Back to top