Hoop Shoot 2014
1224 days until the finals!

Who are the Elks?
Elks are community.
No matter where you go in the country, an Elks Lodge is right around the corner. With more than 850,000 members and 2,000 Lodges nationwide, Elks are providing charitable services that help build stronger communities.
Click here to join us in service to your community!
Shooters
If you're participating in a Hoop Shoot contest, this page is for you.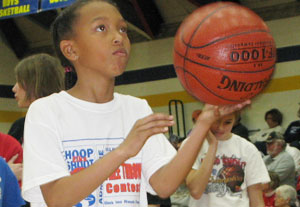 Good Sportsmanship
The Hoop Shoot provides a character-building, competitive experience for all kids. Through each of the levels of competition, kids support one another while learning from their unique strengths. Contestants regard meeting new friends as one of the top benefits of participating in the Hoop Shoot.
Click here to tell us your Hoop Shoot story.
Tips from the Pros
Dear Shooter,
Looking back, my Elks Hoop Shoot experience was the beginning of many wonderful basketball opportunities. It was the Elks Hoop Shoot that showed me the possibilities that were out there, if I continued to work hard, the contest gave me the confidence to pursue my basketball dreams. The Hoop Shoot touched my life in so many positive ways and is a memory that I will cherish for a lifetime.
Here's my Top 10 list for becoming a great shooter.
Catch the ball with your feet square to the basket and knees bent.
Have your shooting hand directly behind the ball.
Have your guide hand on the side of the ball.
Have great balance.
Have a quick release.
No hesitation on the release.
Shoot the ball with high extension on the follow through and your elbow locked out.
Snap your wrist on the follow through with your pointer finger going straight through the rim.
Confidence. Believe the ball is going in every time you shoot it.
Practice, Practice, Practice. Get lots of repetition to develop muscle memory.
But the most important thing to remember is to always have fun!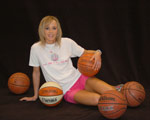 Good luck!
Jackie Stiles
2001 WNBA Rookie of the Year
www.jackiestilesbasketball.com
---
Back to top