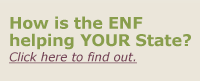 ---
"This grant has impacted my college life tremendously and I am truly grateful."

2013-14 Cornerstone Grant Recipients
The ENF is proud to announce the 2013-14 Cornerstone Grant recipients. The following four Legacy Awards recipients will receive a $500 grant to partner in service with the Elks.
Christina Cockrell
2012 Legacy Scholar
Sponsored by Florida Keys, Fla., Lodge No. 1872

Coral Shores High School Teen Food Pantry
Christina, a sophomore at Miami Dade College, graduated from Coral Shores High School and now wants to give back to her alma mater. She will be working with the Florida Keys, Fla., Lodge No. 1872 to stock a food pantry at her former high school. The pantry is open to teens who do not have the funds for meals or snacks at school. Christina will work with the Elks to host fundraising dinners, car washes and food collections at the Lodge to benefit the Food Pantry.

"Through volunteering at the Elks, I've become familiar with the Elks and what they do in the community," says Christina. "Now, I want to help in the community and show other teens how important it is to serve our peers."

Tanner Ence
2011 Legacy Scholar
Sponsored by St. George 'Dixie,' Utah, Lodge No. 1743

Dixie Bicycle Safety Club
Tanner, a junior at Utah State University, is starting a bicycling club with the Elks and the local 4-H program. He will work with St George 'Dixie,' Utah Lodge No. 1743 to organize a club that meets several times a month to go riding. After the rides, they'll focus on learning bicycle safety and the ins and outs of maintaining a bike.

"I have benefitted so much from my local Elks Lodge," says Tanner. "My father has taught me the importance of service in my community. I feel very strongly about making a difference in my community and I want to help and serve people like my dad and the other Dixie Elks."

Marissa Shenkle
2012 Legacy Scholar
Sponsored by Union City, Ga., Lodge No. 1617

Helping Veterans in Palliative Care
Marissa, a sophomore at Georgia Southern University, is pairing with Union City, Ga., Lodge No. 1617 to care for veterans in the Palliative Care Unit at the Atlanta Veterans Hospital. They are hosting a Game Day Party in the Palliative Care Unit where they will donate a Wii gaming system and games to the veterans. Marissa and the Elks will then teach the veterans how to play the games and spend the day getting to know one another.

"I have always had a deep love and respect for veterans," says Marissa. "Both of my grandfathers are vets and I have grown up around vets at the Elks Lodge. I am so proud of what the Elks do for local vets."

Annalee Tweitmann
2012 Legacy Scholar
Sponsored by Lakewood, N.J., Lodge No. 1432

Literacy in Lakewood
Annalee, a sophomore at Cornell University, is passionate about literacy, and wants to bring that passion to Ella G. Clarke Elementary School, where her mother is a third grade teacher. Annalee and the Elks plan to hold an assembly for the students to give a fun presentation about how to use dictionaries and thesauruses. They will also give each student their own thesaurus.

"The children live in an extremely impoverished area, and I want to provide them with tools that most children already have access to," says Annalee. "Having the Elks National Foundation as my partner means the world to me."
Elks scholars like these want to volunteer with the Elks! There are Elks scholars across the country. If you are interested in inviting Elks scholars to volunteer at your Lodge, please email
scholarship@elks.org
.
---
Back to top