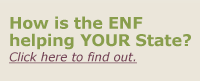 ---
"We are so over the moon with the work we are doing and the feedback coming from these great kids and the people in our communities that see and work with this crisis. We see so much far-reaching positive impact."

Dedria Noll, ENF Grant Project Manager

MVS Scholarship Application
The 2015 Most Valuable Student Scholarship contest will become available September 1. Applications are due December 5, 2014.