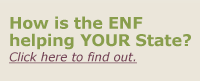 ---
"Thank you for all of your donations to these types of scholarships, as well as for all of your commitment and involvement in the community. The opportunities you provide to high school students like me give us a chance to highlight and be proud of all of our individual accomplishments and come together to accomplish bigger things through the Elks Community."

Forms for ENF Chairs
This page provides the forms you'll use throughout the year to promote the ENF. Forms to Submit Donations are official ENF remittances, to be used to submit donations to the ENF. Forms for Chair use only are forms that you will complete and submit to the ENF. Forms to share with members are forms that you can print and share with your members to collect donor information.
Forms to Submit Donations:
NEW! Online Remittance Form: Use this online remittance form to submit donor information to the ENF, followed by mailing a check to our office. This new online form can be used in place of traditional remittance sheets, spreadsheets or Donor I.D. Reports. Click here for instructions. NOTE: Donations are credited the day the check arrives in the ENF office, not the day the online remittance is submitted.

Remittance Form Templates: Use these printable remittance forms to organize and submit donations to the ENF. This template also includes sample forms and instructions on how to properly complete them.
ENF Donor Card: Donor cards allow you to capture all necessary information from your donors, which in turn, helps the ENF provide better service; always have them on hand, especially for reporting new donors.
Tribute Donations Remittance Form: Use this printable remittance form to organize and submit tribute donations to the ENF. Note: This spreadsheet is for submitting tribute donations only.
NEW! Remittance forms for donations from multiple Lodges.
Use these remittance forms to submit donations from donors from multiple Lodges—perfect for fundraising events and state meetings. Forms may be used for individual donations or donations from Lodges.

Forms for Chairs: