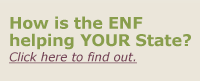 ---
"Thank you again to the Elks, their families, and friends for their support and generosity in making this scholarship possible. I am honored to be a member of the 2013 Elks Scholars."

Forms for ENF Chairs
This page provides the forms you'll use throughout the year to promote the ENF. Forms for Chair use only are forms that you will complete and submit to the ENF. Forms to share with members are forms that you can print and share with your members to collect donor information.
Forms for Chair Use Only:
Supply Order Form: ENF provides supplies for you and your Lodge free of charge. Use this form to submit your order online now.

October Fundraiser Reporting Form: Submit this online form after your October ENF Fundraiser to earn points in the ENF Chair Challenge.

NEW! Online Remittance Form: Use this online remittance form to submit donor information to the ENF, followed by mailing a check to our office. This new online form can be used in place of traditional remittance sheets, spreadsheets or Donor I.D. Reports. Click here for instructions. NOTE: Donations are credited the day the check arrives in the ENF office, not the day the online remittance is submitted.

Remittance Form Templates: Use these printable remittance forms to organize and submit donations to the ENF. This template also includes sample forms and instructions on how to properly complete them.
Tribute Donations Remittance Form: Use this printable remittance form to organize and submit tribute donations to the ENF. Note: This spreadsheet is for submitting tribute donations only.
Forms to Share with Members:
---
Back to top