Who are the Elks?
Elks are community.
No matter where you go in the country, an Elks Lodge is right around the corner. With more than 850,000 members and 2,000 Lodges nationwide, Elks are providing charitable services that help build stronger communities.
Click here to join us in service to your community!
Info For Parents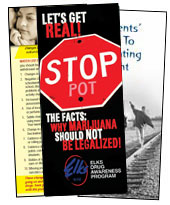 Information is the key to prevention. Learn the truth about drugs and alcohol to help keep your children drug-free.
Marijuana - What's the Truth? - PDF Format
Prescription Drugs: Myths vs Facts
En español
Looking for print versions of our literature?
You can order free print versions of this and other literature by contacting your state Drug Awareness chair.
---
Back to top